The Donut is quite unique !
Just like a traditional Native teepee, a circle with a firepit in the middle, only ours is 3500 sq. ft, and holds 140 comfortably.
In the summer season the Donut walls are open to the outside so you can enjoy the views. If Mother Nature does not cooperate we enclose the area and turn on the heat to keep you warm and dry.
For the winter season you will be warm as toast as the Donut is all enclosed to create a cozy and comfortable atmosphere.
Mouth-watering barbeques are done outside and served inside the donut to be enjoyed despite the weather. There is a choice of menus to suit every occasion catering to groups of 45 to 140.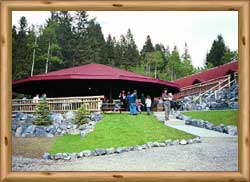 The Donut
The Barn is a classic.
With a capacity of 300 people this 5000 sq. ft. structure is equipped with washrooms, stage, dance floor and bar. We are a fully catered facility with a commercial kitchen.
This is a great venue for dances and special events.
These year round facilities are fully licensed and handicap accessible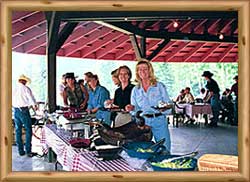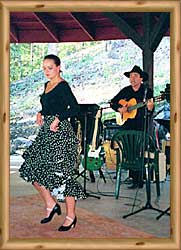 We will help you make any occasion a special event. Cross Zee Ranch is the perfect setting for any celebration - whether it's a wedding, birthday, anniversary, corporate function and fundraiser.
There could be a band, country or rock, dancing or entertainment; perhaps you have your own ideas.
Add some flair to your event !!
Line Dancing
Gunfighters
Square Dancers
Improv Skits
Live Musicians
Great Home Cooking
Hiking
Snowshoeing
Hay Rides
Whitewater rafting
Perhaps you have an idea !!